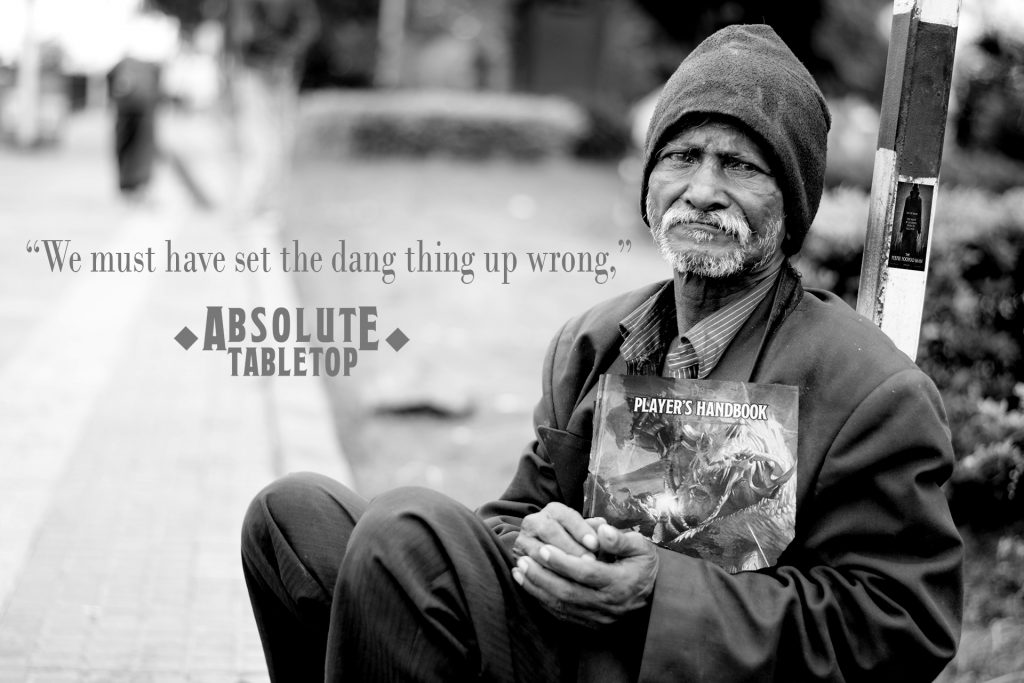 MORIARTY, NM – Independent RPG publisher and backyard wrestling enthusiasts Absolute Tabletop made history today when their most recent Kickstarter project, A Dead Man's Guide to Dragongrin, hit a staggering, record-breaking negative funding number.
"We must have set the dang thing up wrong," said portly spokesman Tim Kearney, mopping panic sweat from his corpulent brow. "Every pledge is somehow charging to the Visa I use for online gambling."
Billed as "a new kind of campaign setting guide for both players and game masters," the Kickstarter for A Dead Man's Guide to Dragongrin started off unassumingly when it launched on March 20, but soon plummeted into irreparable failure only minutes after launch. The never-before-seen event has been dubbed by Kickstarter spokespeople as a "Sultan's Banana," an internal, technical term for a paradoxical thought experiment that existed only in VR simulations until now.
"This is the darkest day we've seen since the funding of the Franco-Prussian Crockpot," said a Kickstarter spokesman, referring to the 398% funded, heat-activated flatulence amplifier innovated to replace the commonly practiced horseplay maneuver known as the Dutch Oven. "These guys are really whizzing it down their legs with this project."
Following exactly zero of Kickstarter's best practices, Absolute Tabletop continues to fail miserably on the popular crowdfunding platform. The four founders, who initially created the company as a way to launder money for their less-than-lucrative third-party chicken tender business, described their funding strategy as "root beer," "Marvel comics," "the Witching Hour by Doctor Smoke," and "anything by Paradox Interactive," seemingly responding to a formal inquiry with an unrelated list of their favorite stuff.
"We chose to go shirtless in the Kickstarter video for a lot of reasons," said bearded roustabout and self-proclaimed "good editor" Matt Click, thumbing the armpit hole of a faded Daggerfall t-shirt. "None of which I can reveal at this juncture due to the non-compete we signed with Krispy Kreme Donuts."
"What we're seeing here is an anomaly," said financial expert Jonathan Brule, PHD. "If this book funds, I'll eat that coffee table." He then pointed to a nearby coffee table, which appeared to be primarily constructed of particle board. A difficult challenge, but one Brule was confident in committing to.
"We spent a lot of money on the absolute best quality 3D-printing we could buy to manufacture these books," said "money guy" and convicted extortionist Michael Barker. "But when the mock-up arrived, we decided to look into less un-openable options."
Matt Click was less enthused with Barker's proposed switch to a real book. "This is a really great option for collectors and people wanting to ONLY display the book, and not actually use it," said Click. "This was very much intentional. Studies show most people don't read anyway – when was the last time you binge-watched a book, man? Like, right?"
When asked why the promised delivery date of the completed product was "Tuesday of next week, after we pick up my cousin's sleepaway sofa" on the official Kickstarter page (effectively three full weeks before the funding period concludes), James Kearney, Absolute Tabletop's resident cat activist, had this to say:
"Listen. I know people are throwing around words like 'promises,' 'deadlines,' and 'accountability.' But to be fair, you can just say words, and people will assume you're not lying, which, really, is their fault."
At press time, A Dead Man's Guide to Dragongrin was at a record-breaking deficit of -$365,000, and was announced to be in the running for the first Darwin Award ever granted to an inanimate, written work.
Happy April Fools everyone. Joking aside, thank you so much for backing A Dead Man's Guide to Dragongrin and helping us blow past our funding goals. The campaign is still live. If you'd like to pledge, you can do so here, and don't worry, only about half of this stuff was true.